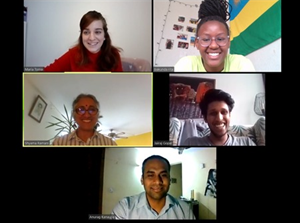 The Centre for Circular Economy is the Teaching, Training and Research activities hub of Friend In Need India Trust. The Centre comprises students, academics and professionals engaged in research projects, teaching programmes and knowledge sharing events.
-Projects                   -Education                 -Academic Articles based on FIN work
Till recently, economic policies for growth and development were aligned with the 'linear economy model', wherein 'waste' was accepted as a negative externality generated by production and consumption patterns. However, worldwide, the perspective is moving away from the 'linear economy model' and towards a 'circular economy' wherein production and consumption patterns minimise waste production without sacrificing the economic growth of countries. The circular economy aims to be regenerative by design, with minimum production of waste that cannot be recycled and maximal usage of products over time, along with optimal reuse, optimal refurbishment, remanufacturing and recycling of products and materials. For all countries, and especially emerging economies like India, transitioning to a circular economy is challenging. In response the objective of this centre is to contribute to facilitating it through:  Evidence based Policy/Strategy research, Multi-stakeholder forums/workshops and Certificate programs for students and professionals.
The themes of interest to the centre are:
Transitions for urban sustainability
Green Energy and Mobility Transitions
WASH transitions (universal access to all of safe water, safe sanitation and hygienic environments)
Synergizing urban-rural linkages for circular economy
Learning from international experiences with focus on China, Japan and Europe
Skills building for transitioning to circular economy
Within each theme the focus areas will be:
Role of technology, innovation, entrepreneurship and governance
Sectoral and national policies/initiatives
Nudge strategies for behavioural change
Cooperation between public, private and social sector actors