National and International Workshops: The centre organizes and host workshops that bring key stakeholders and change makers relevant to its themes and provide opportunities for interaction. An important element of all our workshops are site visits.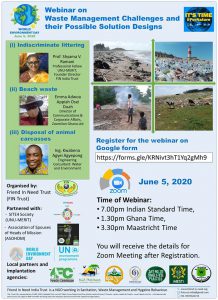 FIN Webinar on World Environmental Day and Beyond!
CCE Event 1 – 2020 On this Friday June 5, 2020, FIN has started its webinar series on water, waste
Read more.
Previous workshops:
Webinar on addressing the challenges of Waste Management

for World Environment Day 2020 organised by FIN Trust with participants from Ghana, India and The Netherlands.
Workshops held in 5 countries for World Toilet Day (2019) under FIN coordination
Pathways to SDG6: Macro to Micro Perspectives – on World Toilet Day, 19 November 2016, sponsored by UNU-MERIT and NCSTC (Government of India).
Four workshops for WASTE (Netherlands) on Sanitation in India (New Delhi, 2013; New Delhi, 2012; Ooty, 2010; Chennai, 2009)
Sanitation in the Millennium Development Goals, Tiruchirapalli, 2007, sponsored by INRA, France