Students from outside India are encouraged to get in touch with us about six months before departure. The procedure is as follows:
Fill in the

registration form

or write to an email to us.
Given your interests you will be assigned a mentor – a previous intern, to hammer a broad area of interest and the type of internship desired: in home country, in Delhi or

i

n the village

. In Delhi, we have some collaborations with a few educational institutions.
Fill in a more detailed form with mentor.
For those, who have never been to India, we offer a short online mooch on "I know India", involving films and reading of contemporary articles and fiction.
Prepare the project proposal, outlining the program every week.
On the Village Internship
This will be more challenging as the village is isolated. No one speaks English. Our staff are nice and most friendly, but they do not speak English. Mr. Paranjothi understands English. You will be safe, but on your own. Thus, to avoid psychological isolation, we do not accept solo interns. Groups of three are best. The project also has to be designed carefully, so that you can do something without knowing the local language.
And it is always hot. The heat is most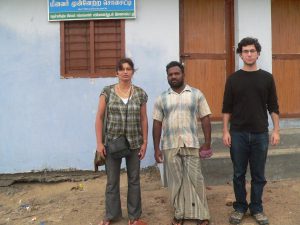 from March to July. There are cyclones and extreme rainfall during November and December. The village resounds with prayers blaring out from megaphones till January 15. Thus, the ideal time to come is during August-October. There are often power cuts.
If you want to work with Indian interns in the village, then the best months are February-June.
All students opting for the village internship are required to do an orientation course prior to leaving as a group or upon arrival in the village, so as to be aware and prepared to face life and implement the project in the village.