What's happening in FIN at Kameswaram Village: Celebrating Ayutha puja (prayers to instruments of livelihood) and Vijaya Dasami (day of new beginnings) in Kameswaram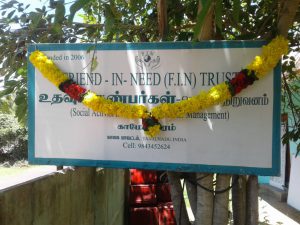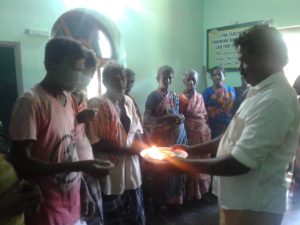 Dear All,
In India many will be celebrating the 'Ayutha Puja' i.e. day of prayer for the 'instruments of livelihood' on Monday and 'Vijaya Dasami' – the day of new and fresh beginnings for attainment of personal targets on Tuesday. These celebrations are called by different names in different parts of India.
This year, the occasion is particularly special for us, because the Gaja cyclone had destroyed our entire office and all our materials last November, soon after last year's celebration of Ayutha puja.
Though devastated at that time, indeed the higher forces have led us to a better new beginning, for which we are most grateful. We are well settled with a wonderful team at the village. They are: Paranjothi Sir, Nagalaxmi Madam, Meena Madam, Minnalkodi Madam and our newest staff Amutha Madam.
In Kameshwaram, bowing to pragmatic needs, the 'Ayutha Puja' was pre-poned and celebrated today. The office was fully cleaned from top to bottom this week. Paranjothi Sir's friend, Mr. Kamraj previous Vice-Panchayat presided and those in the street and neighbours were invited to partake of the snacks prepared for the occasion.
Together, all in FIN, wish you all a great 'Ayutha Puja' and 'Vijaya Dasami' celebrations and great success in all your endeavors!