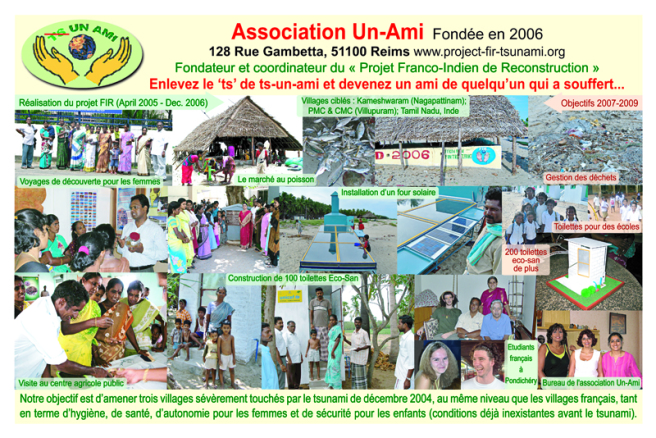 The international project FIR was initiated by Mrs. (Dr.) Shyama V. Ramani, the President of the Franco-Indian Association of Grenoble, France (Ganga-Isere) in January 2005 as part of the world-wide response to help the Tsunami-affected regions of India. It was a project entirely organized by individuals on a voluntary basis. Its objective was to help 3 villages in Tamil Nadu, India that had been severely damaged by the Tsunami of December 2005, attain fundamental developmental goals like income security, basic sanitation and health standards, gender equality and security for children.
The group increased during 2005, individuals from all the world joined, target villages were identified in Tamil Nadu, a French NGO and an Indian NGO were identified and the projects were defined. In January 2006, Association Un-Ami was created in Reims, France to centralize and coordinate the project. The sister Trust Friend In Need was created in India in 2006. All members of Association Un-Ami are volunteers and families in Europe continue to support its work in India via Friend In Need Trust.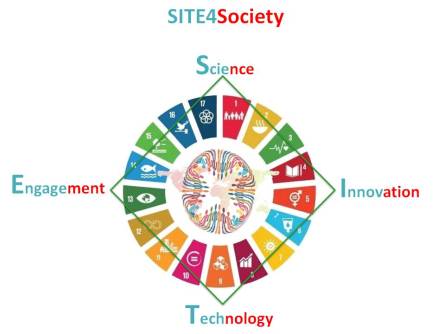 SITE4Society is another initiative by Prof. Shyama Ramani in the United Nations University at Maastricht, the Netherlands, UNU-MERIT, that has been directly inspired by her activist work in Friend In Need Trust.  Its objective is to create dialogue and cooperation between students, researchers and other community stakeholders on pathways to attain the Sustainable Development Goals. Its activities have been developed in collaboration with different groups of academics and students across the globe, with the core team being in UNU-MERIT. The focus is on the SITE variables i.e. science, innovation, infrastructure, technology and engagement (via entrepreneurship and/or governance) that can serve the National Missions of countries and attainment of the Sustainable Development Goals.
SITE4Society@FIN Trust refers to the action-research projects of SITE4Society concerning WASHE (Water, Waste Management, Sanitation, Hygiene, Hygiene Behaviour, Energy and Engagement) issues, whose objective is to help specific stakeholders such as schools, universities, municipalities, village councils and/or any implementing agencies working with them.  The main regions of focus are Emerging countries, followed by Europe. 
https://www.facebook.com/SITE4Society/
https://site4society.wordpress.com/
https://www.pechakucha.org/presentations/breaking-silos-nudging-communities-the-site4society-adventure