New Intern Alert!
We are excited to introduce to you our next intern, Tooba! Check this article as she shares her story with us.
"It's like all my life everyone has always told me that I am a shoe, I am a shoe, I am a shoe and then one day I realized what if I don't want to be a shoe? What if I want to be a purse, you know? Or, a hat?" -Rachel Green (by Jennifer Aniston in FRIENDS).
It is not easy to write an honest "Who am I?" article for a Facebook feed. This is mostly because we are so busy sketching a perfect picture for the world to see that we forget to know who we really are, until one day when we realize that we are a lot more than we thought we can be. In my case, it took me a dozen of failed "I know myself well" manuscripts, many corrections and much more assistance from my coordinators at FIN (thank you for the patience) to finally come up with something that reflects me more than what people think of me. A speaker? A poet? A teacher? Maybe. But more than that I'm a young enthusiastic girl curious to explore the world.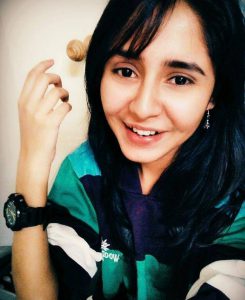 I am Tooba Rahman Khan – a girl with a rare name. My name is synonymous to the angel of wisdom according to Islamic mythology. I am a final year postgraduate student pursuing a master's in Business Studies. I have plans to enroll myself in a research program soon after, which is why I joined FIN as an economics and policy researcher. Two months down the alley, I have not just learned a lot about research and it's methodologies, but also about development in a more sustainable way.
I am a practising Muslim who has not only studied Quraan but also a translation of the New Testament and currently reading the Torah (the holy book of the Jews). I believe that religion is only a way of life, while we all have faith in the power of one. Besides being spiritual, I do yoga. I believe that meditation and exercise not only keeps the mind poise and the body fit but also helps you evolve psychologically. I have been practising yoga for more than a year now and it has helped me in so many ways. It gave me a better schedule, a healthier lifestyle, a more flexible body, a calm mind and importantly the power to control my nerves. It is indeed the most soothing part of my day.
The other thing I look up for the whole day is my evening class with the kids. I've volunteered along with my cousins to teach eight underprivileged children ranging from standard fifth to eighth. We help them for four or five days a week on their school subjects. Most of these kids are children of our housekeepers who struggle to get a proper education at school. Mentoring kids with great potential but not the same resources as we do, not only ignites me to do my best as a teacher but also helps me find peace. It is my little way to thank the world for what I have received. Because in my opinion, there is no better charity than education. "Don't give him bread, teach him to bake bread" -Prophet Mohammad.
I also find my kick in exploring new things, taking up new courses and just learning about new aspects of life. I can't say if it was the childhood lessons that my parents gave me or my zeal to explore, but I have always been a curious and restless kid. In school, my interest switched from one club to another. To start with, I learned to play the piano in middle school. It gave me an entry to the school choir, which I had aspired for the longest time. I enjoyed playing the catholic hymns for the church for a few years before I jumped to the dramatics club where I learned the seven microexpressions of acting that helped me perform well in the miming show.
My next stop was the public speaking club (or pubsing as we call it), where I not just stayed for many years but had a prominent role in almost all the events. I participated in debates, JAMs, spider-webs, storytelling events, anchoring and a few other activities. Always enthusiastic about participating in the activities, I was the most active member of the club. It didn't just help me polish my skills but also gave me a medium to explore and express myself well. One thing I learned from my four-year experience in the pubsing is that you can't just go on stage with no prior preparation and talk for some 10 min at a stretch and counter the attacks from your opponent and conclude your point gracefully unless you know a great deal about the topic (and I mean the demographics). On stage, it is never the information you gathered but the knowledge you have that comes to your rescue. This encouraged me to read about things- facts, history, public opinion, the trends and a lot more.
Gradually, I started enjoying the reading and exploring part more than the pubsing part. It hooked me to subjects like philosophy and history, which I otherwise disliked. As I started reading about the great empires and their legacy, the world wars, the life of the people in the age of monarchy, administrative policies etc, I realised it is one subject that not just helps us learn about our ancestors but also guide us in making life decisions. I also write poems and short stories. It is indeed the most liberating activity I can cling to. Penning down my thoughts on multiple things like the diverse interpretations of religion, politics, and feminism gives me the freedom of expressing myself without fear of judgements and criticisms.
Oh! and not to skip, I have this out of the box interest – hair-styling and hair-dressing. I had always been fascinated by these barbers and their art with the scissors. I remember I used to sit for hours in the salon after and before my turn to silently observe the way they section the hair and chop them into something so admirable. It was in the summer break of 2018 that I started playing with my hair and home scissors and came up with something really nice. It encouraged me to learn more. I started practising it with as many "free and risk-friendly" customers I could get and I felt that each time I did better than the previous trial. It has been some two years since I am styling my own hair (and for my family and friends) and don't just feel passionate about it but enjoy trying multiple new hairdos. Hoping to brush my skills, I have enrolled in a hair-dressing course with Gitanjali (to be resumed soon after the lockdown).
I am glad to get a chance to write this self (scientific) introduction with FIN. "You see Tooba, it is not self-promotion. It is a scientific exercise. You have to think and you have to be honest"- Prof Ramani. This is indeed a lot more than just an essay. It has not just helped me to put a brake on my "build a brand for the LinkedIn profile" mentality but has also helped me to start acknowledging the little moments in life. I realized that it is high time we celebrate these little achievements. From winning the chicken dinner till getting the dream job, every victory counts. Because LIFE IS WHAT HAPPENS WHEN WE ARE BUSY MAKING FUTURE PLANS.