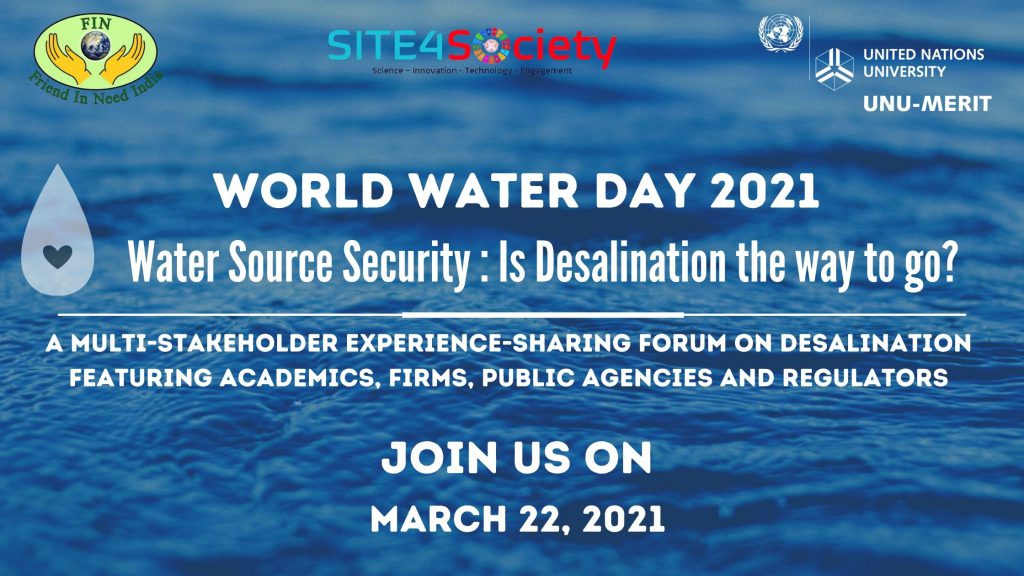 Water Source Security: Is desalination the way to go?
A Multi-stakeholder Experience-Sharing Forum on desalination featuring academics, firms, public agencies and regulators
---
Access to water is fundamental to human security. According to the United Nations, the human right to water can be defined as the right to sufficient, safe, acceptable, physically accessible and affordable water for personal and domestic uses. It can be extended to include water for meeting agricultural and industrial requirements. Water is required to satisfy the needs of individuals, communities and economic activities for development and growth. Data reveals that water insecurity or access to an adequate quantity and/or quality is most lacking in developing and emerging countries (see figure). Water insecurity is likely to become the principal limiting factor for sustainable development in these regions. Thus, now more than ever, it must be addressed better to achieve the 2030 Global Development Agenda.
Currently, many pathways are being explored to lower water stress. These include: i) Water Conservation, ii) Water Recycling and Reuse, and iii) "Expansion" of existing water resources. While the first two concern efficient management of existing water resources, the latter focuses on using new technologies like desalination to add to freshwater resources. Desalination seems to hold an important key to breaking the Gordian knot of water insecurity. A few countries which traditionally had limited water resources became early adopters of these technologies. For instance, Singapore, Australia, UAE and Israel have been addressing their water woes through desalination technologies.
However, their implementation and diffusion remains a considerable challenge for policy and project decision-making, in addition to being an expensive proposition and bringing in environmental concerns. Thus, it is important to take stock and understand how desalination technologies have evolved and assess whether they are still a white elephant or whether they are the golden bullets with which to eliminate water source insecurity.
To find out the answer(s) and make up your mind – you can watch the videos from this Multi-stakeholder Forum where experts from public agencies, the academic community, social sector and businesses discussed these issues.
---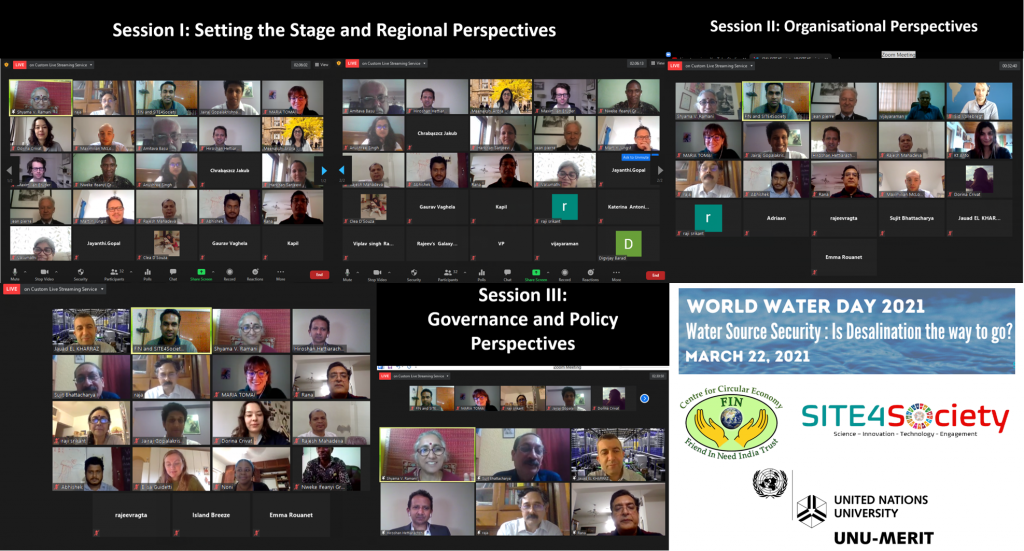 Engage with us on social media: Facebook, LinkedIn, Twitter, Instagram
#WorldWaterDay, #ValuingWater, #Desalination, #WaterSecurity
---
Why is an open experience-sharing event necessary?
Often the discussion on water source security is a part of larger debates on capacity building for Integrated Water Resource Management (IWRM), climate change and other related challenges. Often, this leads to the importance of water source security being overlooked. Indeed, most of the forums, networks and international associations focused on desalination seem to be either catering to a niche group (requiring memberships) or not having conversations with policy and decision-making agencies. In other words, everyone is working hard on the problem in siloes.
This network gap is what this initiative aims to bridge by bringing together these stakeholders. Through this event we aim to start a process that will lead to the creation of an open and free network for knowledge-sharing on this important theme of water security: specifically water source security. Thereby, we wish to draw the attention of policy and decision-making bodies to our cause and needs collectively. Only by documenting different stakeholder, geographic and socio-political perspectives can we propose ways to move towards greater water source security.
Under this context, the objective of this event, therefore, is to contribute to international experience-sharing in the area of desalination covering: policy, institutional delivery and an improved understanding in planning possible future projects. It will bring this issue to the fore, and centre discussion on the implementation and adoption of desalination as a component of the solution design to the challenge of water source security.
This multi-stakeholder forum was organised by the Centre for Circular Economy (FIN India Trust), along with SITE4Society (United Nations University-MERIT).
---
Event Speakers
---
About the Organisers
Centre for Circular Economy (CCE) is a part of the Friend In Need India Trust, an NGO working in India on the different issues of Sanitation, Waste Management, Hygiene and Water. CCE activities are focused on Policy Innovation & Action Research on themes related directly to the sustainable development goals. The organisation has successfully organised international forums in the past on topics related to sanitation, water and environmental sustainability.
SITE4Society is a platform for dialogue and cooperation between students, researchers and other community stakeholders on pathways to attain the Sustainable Development Goals. Its activities have been developed in collaboration with different groups of academics and students across the globe, with the core team being in UNU-MERIT.
The United Nations University – Maastricht Economic and Social Research Institute on Innovation and Technology (UNU-MERIT) is a research and training institute of United Nations University based in Maastricht in the south of the Netherlands. The institute carries out research and training on a range of social, political and economic factors that drive economic development from a global perspective.
The three organisations have collaborated for other such projects, the most recent of these was organised on World Toilet Day 2020, a programme in which co-organisers included Fusion Waste Management Services Pvt. Ltd. along with the Madhya Pradesh government from India. The event included panellists and presenters from private and public sector organisations based in Albania, France, Germany India, Netherlands, Nigeria and Sweden and included a pan European alliance for Fecal Sludge Management. The collaboration between FIN-CCE, SITE4Society and UNU-Merit aims to develop a platform for the exploration of various social innovations and leveraging them for technological, social and behavioural changes.
This program is envisaged to be the first in a series of water-related policy discussions on critical themes that (prima facie) have relatively less focus in the multi-stakeholder understanding and dialogue context.