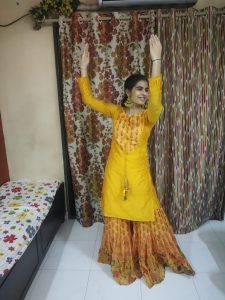 It's time to meet our next intern, Ojaswi from Mumbai. Get to know about her fascination for art through this post.
Hi, my name is Ojaswi Sarve. I'm from one of the most chaotic and hustling cities in the world, Mumbai. I am a Mumbai chi Marathi mulgi(a Maharashtrian girl from Mumbai) who is currently pursuing bachelor's degree in Civil Engineering. Yes, you read it right, a girl pursuing civil engineering. I've encountered various situations where people ask me, "Isn't it a tough job?" But, for me, it's always been a learning experience. The support of my family always makes me feel confident. My parents never judge me for my decisions and are always been there for me. I am an introvert who loves dancing and doodling. Teaching, cooking and shopping for earrings are the other activities that interest me. Reading is something that I have started enjoying recently. I'm also a good badminton player.
I love colours and it is one of the major reasons I got so fascinated with doodling. You know there is a juncture in many of our lives, where we feel demoted and depressed. That is when I started drawing doodles, mandalas, and zentangles. Choosing a shape or figure and filling it with designs and colour schemes restores calmness in my soul. At first, I starting doing this for fun. But then, I realized that this was relieving me from the emotional tension I was carrying. Doodling, mandala art and zentangles are like my mantra to wash away the negativity inside me. I firmly believe that art brings out the real you and indeed it has helped me be the cheerful person I am today.
I have always loved dancing to the tunes. A year ago, I started my Kathak training. Some of you might think, 'Who in her second year of CIVIL engineering would start to learn a classical dance form?'. Seeing Madhuri Dixit Nene ji perform Kathak, made me learn it. Kathak, which means 'to tell the story', teaches expressing feelings in a very graceful way. It offers a great opportunity to learn about Indian culture, heritage, and tales of Radha Krishna. I may be a bit too late for learning Kathak but 'better late than never', right?
Further, I would like to learn more about green materials, their production, uses and effects on our environment. As a FIN intern, I will be learning about sustainable development and the steps to be taken for a greener and healthy environment. In addition to this, I will also be developing my communication and writing skills. FIN is a great platform for sharing my ideas on how waste products and materials can turn into useful products.